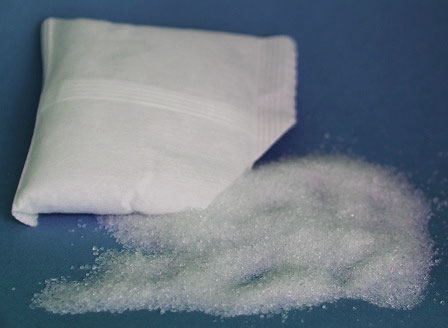 Protect your products from humid environments by different types of moisture absorbers: Silica Gel, Desiccant Clay (Activated Bentonite), Molecular Sieve or home desiccant (Sanidry).
Silica Gel is at humidity absorber, dry agent, produced with amorphous silica and comes in the form of a semi-transparent hard granule. As part of moisture absorbers, desiccant silica gel have a great absorption capacity and this varies depending on the environmental conditions.
Desiccant clay or bentonite is a natural desiccant that is activated by specific drying conditions. The desiccant has a great ability to absorb moisture when it is activated, varying according to environmental conditions like Silica Gel does.
The molecular sieve is obtained synthetically from zeolite compounds. It is not just a traditional desiccant or moisture absorbent but it has other types of applications as a filter of different chemical substances.
The home moisture desiccant Sanidry is a dry agent specially designed for moisture problems in closed habitable places: houses, basements, garages, caravans, cars, boats, cabinets, etc. Sanidry Tray is placed in places with little ventilation in which there is usually humidity due to some filtration problem, condensation or any other reason that is generating humidity.