The odor remover bag eliminates unwanted odors in closed spaces of your home such as wardrobes, the pet space, the garbage closet, the garage, or in other places such as vehicles or lockers.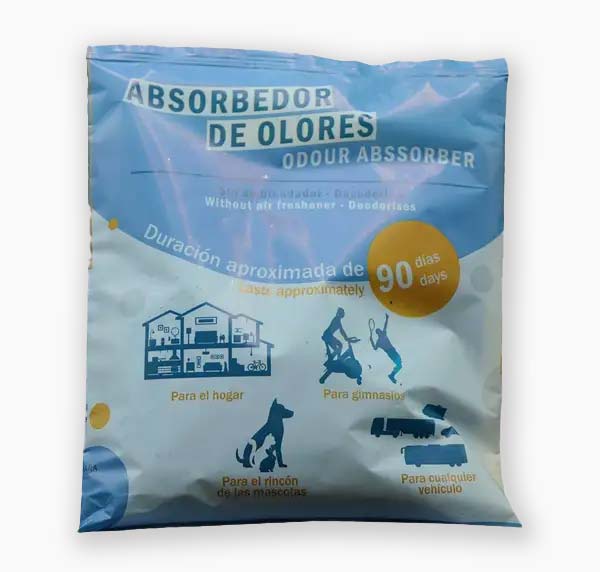 Description of the odor remover bag
The odor remover bag is made with a high transpiration and liquid repellent fabric. It eliminates odors from indoor spaces such as closets, the space of the pet, vehicles, boats, motor homes, changing rooms, lockers or sports bags. This odor control bag prevents to a large extent the accumulation and mixing of unwanted odors, deodorizing and sanitizing the environment thanks to its great power of oxidation.
The innovation of this product consists in absorbing odors instead of perfuming as other commercial products do. This way, the environment of your home is more pure, hygienic and free of volatile particles. The product is composed of a type of absorbent natural clay impregnated with additives. This mixture allows in a more effective way to absorbe more unpleasant odors and volatile particles that can generate an unpleasant sensation.
These are some of the advantages of the odor free bag:
Economical price
Effectively removes odors
Prevents the mixture of unwanted odors
Duration up to 90 days
The components of this odor remover present no danger to the environment.
Liquid repellent
Possibility of combining it with a moisture absorbent
Comfort increase in your home, your garage, your motorhome, camper van, boat or yacht, as well as any other closed spaces where you suffer of unpleasant odors.
Applications
These are the main applications of the anti-odor bag:
Wardroves
Shoe storage cabinet
Garbage cabinet
Bathroom
Kitchen cabinets
Pets space
Interior of sports bags
Gyms, changing rooms and lockers
Cars
Trucks
Caravans, motorhomes and camper vans
Boats and yachts
Garages
Closed spaces with bad smell in general
Specifications
Technical specifications of the odor remover bag:
Duration between 60 and 90 days
Used bags can be thrown away in the disposal container
Made of high transpiration and liquid repellent fabric, heat-sealed
Dimensions: 20 cm x 18 cm
Product weight: 220 g
Supplies
The odor remover bag is sold in units. Don't hesitate contacting us if you have any further question about our product.